A Trip Back in Time | Who's on First? | Capt. Bogardus
Aim for the Stars | Addie Cushman
Many Aimed for the Stars
But fancy shooters were becoming so common by the 1880s that even a 12-year-old girl was calling herself the champion rifle shot of the world
What follows is typical of the stories that appear in On Target, the journal for collectors of target balls, or planned for "The Book," my proposed 600-plus page shooting history and target ball price guide.
It shows how much I know about little-known people; however, during later research, I found enough material to move some of these people into a chapter of their own. Unfortunately, what follows also shows how much I don't know. Researching hours each day can produce only so much.
---
Exhibition shooters — people who earned (or attempted to earn) a living with their marksmanship — were not a new phenomenon in America or the world in the 1880s; they dated to the early 1800s, when shooters performed with circuses. But it wasn't until the last quarter of the 19th century that they achieved the height of their popularity. Several factors were influential: Improvements in guns and their mass-production, and dependable cartridges; improvements in transportation (especially in railroads, allowing Wild West shows to play city after city with little downtime; an improved economy that gave people both the time and money to attend sporting or theatrical events. The vast improvement in printing was also a factor. Mass-produced colorful posters and banners and broadsides could cover the countryside and entice an innocent public to attend something like a "world-conquering and all-overshadowing ... real Roman hippodrome, 5 continent menagerie," to quote an 1887 poster for the Sells Brothers and Pawnee Bill's "matchless and dazzling" circus and Wild West show.
With the advertising and the stories in the pages of newspapers big and small, people who led humdrum lives remembered the names of these exciting shooters and went to see them.
While Annie Moses (Oakley) was still growing up in Ohio's Darke County, Americans were already talking about another shooter, one Adam H. Bogardus. Annie was a miss of only nine when Capt. Bogardus made a name for himself by killing 100 pigeons without a miss. That same year, 1869, he also bet a Mr. R.M. Patchen a thousand dollars that he could kill five hundred pigeons in 645 minutes. The captain did it with 117 minutes to spare.
By the time Annie Moses was 15, *Bogardus had been to England, challenged any man there, won 18 matches, and come home with a medal declaring him the champion of the world.
In 1874, for example, the men of the hour were the shooters on the American Rifle Team, who had astonished the nation by upsetting the world-famous Irish shooters at the old Creed farm on Long Island on Sept. 26.
"A Victory for America," rang the page-one headline in the New York Times. The victory had surprised a nation that considered Wimbledon and Monte Carlo the hotbeds of good shooting, not the American range at Creedmoor. Barely a year old, it had been established by a new club called the National Rifle Association. The club had 760 members that year, but the great victory at Creedmoor would change all that. It placed American sharpshooters in the spotlight and spurred great interest in rifle shooting. (Note that many of the people and other topics mentioned here are dealt with at length elsewhere in this book.)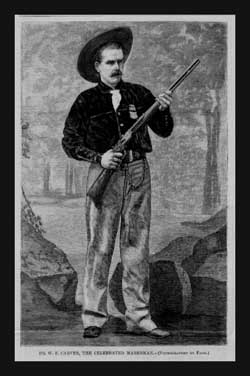 For every 10,000 shooters who hoped for fame and fortune in the late 1800s, there was only one Doc W.F. Carver. Carver called himself "The King of the Rifle."
Champion shooters became plentiful in the 1870s and 1880s, and Bogardus was arguably the most famous of a growing string of exhibition shooters. His most celebrated — and flamboyant — rival was Doc W.F. Carver.
Carver called himself "The King of the Rifle," and newspapers billed him as "The Human Mitrailleuse" (after a famous repeating gun of the day), "The California Deadshot," "The Rifle King," "The Magical Marksman" and "The Modern Hawkeye." In New York, in an unprecedented tour de force of endurance on July 13, 1878, following Bogardus' January match of 5,000 balls, he broke 5,500 balls out of 6,212, launched in seven hours, 38 minutes and 30 seconds of nearly continuous shooting — with a rifle!
Other shooters in turn staged various feats. One was a man named John Ruth, who showed up at Deerfoot Park on a summer day in 1880 with his wife. He surprised everyone when he handed her a six-pound pistol. She took it, aimed, and broke a glass ball he threw in the air.
A series of fancy shots followed, in which Mrs. Ruth proved that a woman could handle a gun, too. She broke glass balls while holding her pistol sideways and upside down, and then stood with her back to the target, took aim in a small mirror, and shot a ball swinging to and fro on a string.
John Ruth wasn't such a bad shot himself. In 1879, he broke 979 (some accounts say 990) balls out of 1,000 at a county fair in California. But good as his shooting was, Ruth never became as famous as Carver or Bogardus. The fact that he died May 7, 1881 in Oakland, California ("from an attack of dropsy of the heart," noted one newspaper), certainly hampered his career!
And if these marksmen weren't shooting glass balls, they were shooting just about anything that moved — a variety of birds, bats, blocks of wood, apples, eggs, coins, marbles, clumps of dirt, potatoes, even snowballs.
Charley Austin, who was one of the earliest exhibition shooters to perform on the stage, used a Winchester rifle to shoot potatoes from the fingers of his assistant, a Frenchman named Duchene, according to Annie Oakley expert Shirl Kasper.
Shooting things held in someone's hand seemed common back then — fingers must have been an inexpensive commodity — and targets were also held between the lips!
Austin shot cigarettes from Duchene's mouth, and extinguished candles with a bullet or cut the spots out of playing cards. Annie Moses wasn't yet a teen-ager when Charley Austin came on stage, leaned over a crate backwards, and smashed targets.
Perhaps Mrs. Ruth copied her fancy mirror trick from Charley, who slung a rifle over his shoulder, sighted in a mirror, and shot an apple off Duchene's head.
Years later, Annie greatly loved her dog, Dave, but didn't hesitate to shoot apples off his head. And, in a variation of the William Tell trick, other shooters blasted items off the heads of their own children! (The reverse of this is also true: Capt. Bogardus allowed his son, "Little Henry," to shoot target balls Dad held in his hand.)
Another fancy shooter, Ira Paine, a specialist with the pistol, was a well-built, calm man said to handle a gun like a machine, "lifting or lowering it with precisely measured movements. He appeared on stage in a simple suit of tight trousers, black coat, and a sports hat, and was assisted by his pretty wife." Mrs. Paine held a cardboard target with a bull's-eye measuring about an inch, which Paine hit from a distance of 65 feet. Paine is a major player in this book.
A number of the fancy shooters performed with women (who seemed to be held in the same high regard as fingers).
In England, there was the Buffalo Bill wannabe, Franklin Samuel Cowdery, who shot target balls off the bodies of both his wives. (How great a shot he was is questionable: his second wife wore red tights, so that if she bled, the audience wouldn't notice.) In America, in an act simply called the Bartlett Family, the husband, wife and little daughter, Florence, all shot. Ditto the family of F.F. Bennett. (Later, I came up with quite a few paragraphs on the Bartletts, and they are pictured elsewhere in The Book.) Capt. Frank Howe took Tillie Russell as his partner. This was about 1881, when Howe, a tall, muscular man, was about 30. He dressed in gray chamois leather trousers and high patent boots. His waistcoat was decorated with white and red stars, and his jacket was made of leopard skin. On his head was a big, well-brimmed sombrero. Miss Russell, who wore tights, impressed the audience more by her good looks than by her marksmanship skills. Her best feat was shooting a big potato from Howe's hat — at a distance of all of four paces.
Fancy shooters were becoming so common by the 1880s that even a 12-year-old girl was calling herself the champion rifle shot of the world. Her name was Lillian F. Smith of Watsonville, Calif. She held out a $500 wager that she could break 1,000 glass balls in 50 minutes.
In England, an eight-year-old shooter named Charles Brown Jr. awed the London shooting scene. Thousands — including the Prince of Wales — witnessed his shooting skills. On April 3, 1882, he hit 196 balls in succession. Nicknamed the "Young Nimrod," little Charlie even had a pamphlet published listing his "life story" and reprinting his dozens of press clippings. But, by the age of 12, the Young Nimrod seems to have disappeared from public view. Maybe he discovered soccer. Or maybe a different kind of bird.
In Detroit, around 1885-88, a newspaper reporter promised a "successful career" for 13-year-old Addie Cushman, who made "all the difficult and nervy shots used by the best experts." But except for this one reference, little Addie seems to have faded from the spotlight. (You will read about Addie elsewhere.) Bogardus also touted the shotgun skills of his son Eugene, and when the boy was 13 the father challenged any other youthful shooter in the world to go against Eugene. (Also reported elsewhere.)
Other shooters came and went, half cocked. I find casual mention and then, nothing else. Maybe they didn't have the skill, or the right press agent or ... the luck of the draw. (Puns intended.) In another chapter, the late 1800s' gun expert W.W. Greener lists the pigeon shooters ranked world champions at the Grand Prix du Casino in Monaco from 1872 to 1910.
A few of the names I have stumbled across without ever finding more than a sentence or two of information about them:
ν Adley, Miss. "A match for $200 a side was held at Chicago, Feb. 9, between Ernest Delmanzo, the Milwaukee expert, and Miss Adley, the champion female Rifle Shot of the world. Miss Adley scored 485 and Delmanzo 491, our of a possible 500." This reference, the only one so far to Miss Adley, was found in Vol. VI of "Outing, An Illustrated Monthly Magazine of Recreation," April, 1885 – September, 1885.
ν Lottie Aldridge. In the July, 1914 Wild West show taken to London, England, by America's 101 Ranch of Oklahoma, "Lottie Aldridge of Greeley, Colorado, is addicted to lying flat on her horse's back and firing a Winchester at hordes of imaginary savages." ("The 101 Ranch" by Collings and England, 1938, page 180.)
ν The Austin Brothers (is this Frank?)
ν F.W. Bacon, in a 1927 letter, says "he shot pennies he threw up in the air," allegedly referring to Buffalo Bill, for whom Bacon said he worked.
ν Col. M.L. (Doc) Baker. An outfit called Old Barn Auction, in Findlay, Ohio, as part of an April, 2007 auction of knives, Civil War and sporting items, offered lot 665, a "framed letter and envelope dated 1927; Col. M.L. (Doc) Baker, 'America's Greatest Living Rifle & Pistol Shot.' " I found nothing on Doc Baker on the Internet, with the exception of the drunken town doctor on TV's Little House on the Prairie. Hmmmm. Two different Doc Bakers, I'm sure. The nicely framed item sold for $150 plus a 10 percent premium.
ν F.F., W.E. and Annie Bennett.
ν Mattie Biggs. In November, 2006, Cowan's Auctions of Cincinnati offered a cabinet card of Mattie Biggs, with imprint of Obermiller and Kern, New York. "Inscribed in pencil on verso Mattie Biggs Crack Shot. Buffalo Bill's Wild West. I have found no other reference to Ms Biggs.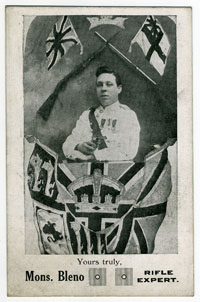 ν Mons Bleno. All I know about this "Rifle Expert" is what it says on this postcard (see photo, left) I purchased for a few dollars at an English ephemera show.
ν Robert Bodley. As early as 1905, Bodley — probably South Africa's greatest marksman of all time(?) — won the Daily Telegraph Cup at Bisley, England. In 1912, a South African team, captained by Bodley, won the Colonial Prize at Bisley. (From the story about Bisley shooting elsewhere in the book.)
ν Bonita. A ca. 1900 photo of "Bonita, World's Champion Girl Rifle Shot," shows a young woman with medals pinned to the blouse of her festive Western outfit. She holds a Winchester Model 1890 rifle. She possibly is English.
ν Arlayne Brown, a sharpshooter with Miller Bros. 101 Wild West Show, in, perhaps, the 1920s.
ν California Frank. Shooting companion with Lillian Smith.
ν Capt. L.C. Bruce...
ν Carazo, "the famous Female Crack Shot of the World," ca. 1888-90, part of the Forepaugh Wild West Show. Two years later I found a paragraph on her in an Adam Forepaugh Circus program. It noted: "A beautiful Senorita, Carazo by name, who is said to be a veritable belle of the lineage of the Aztec race, has developed into a full-fledged champion of the rod and gun. Like the skillful metaphysician, she not only 'splits hairs,' but pasteboards set up edgeways, and knocks the spots off the jack of hearts, especially where 'guns' are trumps. ... It is well worth the whole price of admission to see her wonderful feats with the rifle." (Separate story set for The Book.)
ν Frank and Myrtle Chamberlin, ca 1900, a couple billed as expert at "rope juggling" and lasso handling, performed "Queer Tricks with Ropes and Whips," and also were skilled at "shooting by aid of a mirror." (Myrtle was born Lottie Donaldson in Vasser, Michigan, Feb. 2, 1876.)
ν Chief Black Cloud and Prairie Flower. A really great card sold on eBay *May 25, 2003, that I would love to have had; in fact, I was the second person to bid on it at $15 ... But it sold for $256.61! I knew it would go higher than $15, and I thought I'd get back in with a bid of $80 and maybe take it, but when next I looked at it, wham, it was over $100, and it just kept going. Still, it was a strange and wonderful card.
Offered as an 1880s' card, at 6.5 by 4.25 inches it was hardly wider than a dollar bill, and not quite twice as deep, yet it contained a surprising amount of material that appealed to the gun collector, Old West collector, Indian collector, circus collector and music collector.
The title on the card was: "Chief Black Cloud and Prairie Flower in their Wonderful Rifle Shooting and Musical Specialties Act." To the left of the wording was a portrait of Chief Black Cloud with a chest full of medals; to the right, Prairie Flower. To me, the two — with their fancy costumes — look more European.
Where the wording is, in the center, are two crossed rifles, and two trumpets. Along the bottom are five pictures; two more of Black Cloud posing, and three of the Flower. In one picture she has a rifle and is shooting backward, over her shoulder, and in another she is shooting forward, with the rifle upside down.
I guess the best part of their act, for them anyway, was that with two loaded rifles on stage, they didn't have to be good musicians. Who would dare complain? (*I missed this card again, at auction, in June of 2005, and March, 2008, when it sold for $149.99.)
ν J. Close of Pontiac, Michigan. In a Forest and Stream ad for the Grand Shooting Tournament at Syracuse, New York, set for July 13, 1875, Bogardus, Ira Paine, J. Ward of Canada, and Close were prohibited from entering the competition.
ν Seth Clover: In November, 2006, Cowan's Auctions of Cincinnati offered an anonymous cabinet images in oval format of Seth Clover with a rifle, a member of Buffalo Bill's troupe. On May 3, 1892, outside Pittsburgh, Clover, of Erie, Pa., shot in a match, coming in first shooting at 10 Keystone traps.
ν J.C. Cockburn, the Champion Wingshot of Canada. On July 10, 2003, this Kimball cigarette card sold for $57.60 (plus $2.50). There were seven bidders, 11 bids.
ν Dead Shot Dick Wilbur Collins, a member of Pawnee Bill's Wild West show, ca. 1898 (from "The Wild West", by Don Russell, 1970).
ν Mildred Cook: An ad and photos show Mildred and Alf. Malvern, "Fancy Expert Rifle Shots," "Shooting Balls, etc. Thrown in Air, Blue Rocks, etc."
ν C.A. Daly: On a website about Buffalo Bill in Scotland, this note: "Exhibitions of marksmanship were given by Buffalo Bill himself; C.L. Daly, the pistol and revolver expert; Johnny Baker; and best of all, the Wild West show's ever-popular star attraction, Miss Annie Oakley," (shown in a line drawing from the Evening Times, dated Nov. 9, 1891).
ν Diamond Dick, see Richard Tanner.
ν D.A. Davis: In an 1881 article he was called "the champion of all-range bullet shooting."
ν Eagle Eye and his wife, Neola.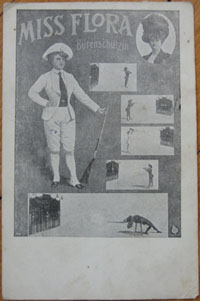 ν Miss Flora, shown on a ca 1910 German postcard marked "Burenschutzin," and showing her standing with her rifle, with five small views of her shooting, plus a picture of her wearing a large, very feminine hat. (eBay, Aug. 30, 2009)(see photo, right)
ν George Edward Funk, born Nov. 13, 1868, "is not married, and is of a roving spirit, having visited many of the cities of the West. Early in life he developed a fondness for fire-arms, and is now one of the best rifle shots in the country. He has given numerous exhibitions of his skill at target practice, shooting glass balls, etc., and has always come out best in competition with local authorities." (From "Biographical Review of Cass, Schuyler and Brown Counties, Illinois," 1892.)
ν F.E. Getty: a woman shown holding a gun on the front of a letter sent from "Remington Guns & Rifles" and postmarked 1901. Under her image is: "My favorite is a Remington."
ν John E. Graham of Canastota, New York. In 1883 he was called the "Great Expert Rifle Shot of the World."
ν George Herman: In April, 2006, I was offered (for $1,000) over the telephone a framed photo of George Herman, noted as the 1899 "fastest rifle shot." I parsed.
ν Birdie Grover: In late 2006, Greg Martin Auctions offered a cabinet card of "MISS BIRDIE GROVER, THE RIFLE SHOT WITH MEXICAN JOE," Another photo indicated her real name as Gertrude Welsh.
ν J.H. Jordan, the Champion Live Pigeon Shot.
ν Mexis Kennedy. See Mexis
ν Alfred P. Lane, who, according to a 1914 Colt booklet, "How to Shoot," was the world champion pistol shot for 1912.
ν Eugene Lecompt.
ν Stack Lee, a marksman in the Miller Brothers' Wild West show touring England in 1914 (from "The Wild West", by Don Russell, 1970). However, a list of the Miller Brothers' 101 Real Wild West show staff in 1911 has him only as a "cowboy."
ν Miss Lillian, "of the World-Renowned Royal Dreadnoughts." The only reference is a photo on a British postcard (see photo) mailed April 11, 1908.
ν Curtis Liston, a sharpshooter with the Young Buffalo Wild West show in 1911 (From "The Wild West", by Don Russell, 1970.) While searching the Internet in 2003 I found material added to a later page. "I'm trying to find any info on my grandfather, on my mother's side. His name was Ira Curtis Liston. He went by Curtis Liston. Born in Beckley, W.Va. around 1879, and died in Uniontown, Pa. in 1961. He had a sister Flora, and brother Charles. He first married Jennie Nedrow in 1910 in Uniontown and around 1922 remarried my grandmother, Olive Galloway in Uniontown, and had two kids: Fred, and my mother, Lois. He was a marksman, performed in Buffalo Bill's Wild West Show, along with Annie Oakley, and won rifle and pistol competitions. I'd like to find out when he was born and who his parents were."
On Feb. 6, 1925, the New York Times reported that on Feb. 5 "Curtis Liston of Johnston, Pa., was announced today as the winner of the Gallery Rifle Championship of the United States at 50 feet, kneeling position, with a score of 397 out of a possible 400. He also won the standing position championship at 50 feet with 384."
ν Lone Star Harry. (I finally found info; it's on page 20, Issue XXVIII of On Target!)
ν Loris & Altina, the "Recognized Champion Rifle and Revolver Expert of the World and Holder of the American Trophy" on a circa 1880 poster showing the duo doing various shooting tricks on stage. (See page 6, issue XLII.)
ν Lou and Dell. I purchased a copy of a photograph, circa 1900, of a couple doing their "Backward Mirror Shot." The original photo is said to include their identification as "Lou and Dell." (See separate story in The Book.)
ν Geo. C. Luther of Syracuse, New York, in 1883 was a ball shooter who "had challenged both Dr. Carver and Bogardus."
ν Alf. Malvern: An ad shows Malvern (aka Alf Rieckhoff) and Mildred Cook, "Fancy Expert Rifle Shots, Shooting Balls Etc. Thrown in Air, Blue Rocks, etc."
ν E.T.T. Marsh: In an 1881 article, he was called the "champion of word shooting and swinging objects shooting." (An Oct. 22, 1898 New York Times article noted that National Guard Major E.T.T. Marsh was a long-range sharpshooter with the 71st Regiment, competing at Creedmoor.)
ν Capt. Leon Martin, "premier pistol shooter of the world."
ν Alice McGowen, a Buffalo Bill show performer.
ν Mexis: Around 2000, at an auction by Historical Collectibles, a pencil drawing by Albert T. Reid was sold. It depicted Diamond Dick (Dr. Richard Tanner) with a rifle, "shooting an apple off the head of a female assistant, likely Mexis Kennedy, with whom he worked many years." Add to Page 9 story on Mexis, XXVIII, Spring, 2005.
ν Albert W. Money: In 1907, Annie Oakley wrote: "One of the best sportsmen I ever met was an Englishman, Capt. A.W. Money, for the past several years a resident of this country. As an all-round shot he had few equals, while his way of handling a gun was perfect, and although now nearing the allotted span of life he can more than hold his own with many of the younger marksmen." (Money wrote an 1896 book, "Pigeon Shooting." I found more information on Money, for a change.)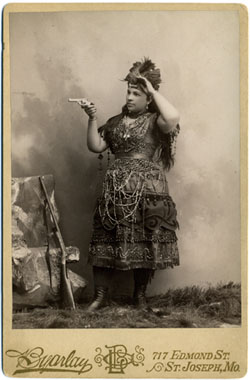 A great photo of a (likely) wild west show performer, but the cabinet card does not carry a name. Do you recognize her? This card sold on eBay in late 2008 for $117.50. Is this Neola, wife of Eagle Eye? Is it Prairie Flower, partner of Chief Black Cloud? Or Carazo, said to be "a veritable belle of the lineage of the Aztec race"?
ν Macurio, Jack: "My grandfather, Jack Macurio, was a sharpshooter, among other things, in the circus/carnival world from around 1910-1949. He had a wild west side show and was also in vaudeville and in a few movies," says Sharon, in an e-mail sent to me in September, 2006. "He performed also as a Cherokee Indian Chief known as Chief Black Wolf. My grandmother ran off with him, married him and joined his act at age 18. He used to shoot cigarettes and other things out of her mouth. He was also an expert roper and knife-thrower. ... Grandma and he were divorced in 1921. When he died in 1949 ... his carny pals paid for his tombstone and on it they put: "Great Showman and Trouper'." After the divorce, Macurio's new partner was Sue Ray, "human target and daredevil cow girl."
ν Miller & Root: A postcard was offered on eBay (Sept. 29, 2006). The seller said: "Real photo, id'd on back in old hand writing 'Miller & Root Expert Marksmen' " Root was a female. I found nothing else on them.
ν Nebraska Nell: See Wyoming Jack (and Capt. Jack, below.)
ν Capt. Jack O'Connell, a self-proclaimed "crack shot," was on this list for some time, but I finally found an article on him in a 1911 magazine (and included further back in The Book). Also, Canada's Dave Bond (in 2007) noted: "In 2001, I purchased a Model 1873 Winchester in 22 caliber that bears an inscription on the side plate which reads Captain O'Connell and Wild Nell." (There is a long story elsewhere on Capt. Jack.)
ν "Parson Jim." On Aug. 7, 2004, a cabinet card sold on eBay for around $400(?). The photo showed a man with two pistols in hand, a shotgun at his feet; he wears two badges. Written as part of the photo is "Parson Jim." Seller has added "Calistoga, California."
ν Prairie Flower (see Chief Black Cloud).
ν Alf Rieckhoff; see Alf Malvern.
ν Sylvester Schaffer Jr.: Edited from a website devoted to German circus jugglers is this item on Schaffer, a third-generation German performer. He is said to have been an outstanding strongman, juggler and all-around "artiste." In 1904 he created a one-man show in which he was juggler, equilibrist, violinist, minstrel, dog-trainer, trick-shooter, equestrian and magician. His father, Sylvester, and his uncle, Severus, were said to be well-known jugglers in the 1800s. On Aug. 30, 1914, the New York Times said that Schaffer, 27, appeared in 10 of 16 vaudeville acts he brought to the Palace in New York: "His entertainment starts with card and coin manipulation, takes in some exhibitions of oil painting under the spotlight, a turn in Japanese juggling, a sample of circus horsemanship, an act specially devoted to his trained fox terriers, a showing in violin virtuosity, an exhibition in acrobatics, another in expert marksmanship, and then a finale called 'The Apotheosis'." He also juggled cannon balls and turned "flip-flaps." His feats of marksmanship, said the Times, "were rendered vastly amusing by the antics of a deer used to make the hunting scene more realistic, which insisted on wandering down to the footlights and playing with members of the orchestra" and attempted to stick its muzzle into a bassoon.
ν Capt. O.G. Stevens, a sharpshooter with the Young Buffalo Wild West show in 1911 (from "The Wild West", by Don Russell, 1970).
ν Edith Tantlinger: In the 1911 Wild West show produced at the 101 Ranch in Oklahoma, "Next comes ... a very effective number wherein Edith Tantlinger challenges exhibition (sic) with the shotgun. This act is wonderfully clever and on the opening occasion she made every shot count, penetrating a clay bird with each click of the trigger." (From "The 101 Ranch" by Collings and England, 1938, page 177.)
In the combined Buffalo Bill-101 Ranch show of 1916, a highlight of the presentation was the marksmanship of Edith Tantlinger, "The Oklahoma Indian Girl." In the 1916 program she is pictured holding a Winchester Model 1897 shotgun. The caption reads:

"Edith Tantlinger ... is the crack shot with the show. She is an expert with the rifle, revolver and shotgun and handles the lariat with dexterity."
The program added that she was a native of Oklahoma, learning to shoot in the Fort Sill area. (Oooops; a year after the above was written, I found the full story of Edith Tantlinger; it's elsewhere in the proposed book.)
ν Richard Tanner, aka "Diamond Dick," "a champion long-distance rider of the world, expert rifle and pistol shot and notorious for his dime-novel fame." Ca. 1976 N. Flayderman & Co. catalog. From the Internet, 01/03: Richard Tanner was born in Taylorville, Illinois, in 1869, and came to Nebraska in 1878. He soon became known as a fearless rider and crack shot. He was with the Buffalo Bill Wild West and other shows and in the 1890s had his own attraction — Diamond Dick's Wild West Shows. Accurate with a shooting iron, and a champion distance rider. He later went to the Lincoln Medical College of Lincoln, Nebraska, and became a doctor in Norfolk, Nebraska. Dr. Tanner called Norfolk his home from 1910 until his death in 1943. (A photo of Tanner indicates a Buffalo Bill wannabe in appearance.) There is information on Tanner for those willing to dig it out. I passed.
ν J. Ward of Canada: In a Forest and Stream ad for the Grand Shooting Tournament at Syracuse, New York, set for July 13, 1875, Bogardus, Ira Paine, J. Close of Pontiac, Michigan, and Ward were prohibited from entering the competition.
ν J.J. Ware: In November, 2006, Cowan's Auctions of Cincinnati offered an anonymous cabinet image in oval format of Ware with a rifle, saying that Ware was a member of Buffalo Bill's troupe.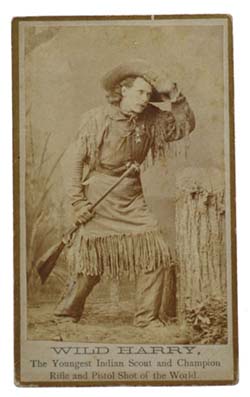 The cabinet card photo of Wild Harry was sold by Cowan's Auctions on Dec. 7, 2007. Cowan's is an auction house noted for great historical photos. Despite claiming to be the "Champion / Rifle and Pistol Shot of the World," I have found nothing on him.
ν Prof. Fremont Wheeler ...
ν Jess Willard, with the "Miller Bros. & Arlington 101 Ranch Real Wild West" show ca. 1915, "a cowboy from Kansas, crack rifle and revolver shot, expert swimmer, never drinks or smokes," who became world heavyweight champ in 1915 when he knocked out Jack Johnson, (from "The Wild West", by Don Russell, 1970). On June 11, 1917, said the New York Times, Willard "took over control of the Buffalo Bill Wild West Show and Circus" For $105,000, Willard got "two trains of cars, 200 horses and all equipment." Willard had been appearing with the circus, showing "some of his famous punches." I found no references to his shooting abilities. (Willard died in 1968.)
ν Gertrude Welsh: In late 2006, Greg Martin Auctions in San Francisco offered a cabinet card of a woman with a gun; written in pencil on the card was "Gertrude Welsh / With Uncle Bill Cody." Another photo indicated that her theater name was "Miss Birdie Grover, The Rifle Shot With Mexican Joe."
ν Wild Harry. A cabinet card sold by Cowan's Auctions Dec. 7, 2007 (for $575) detailed "Wild Harry / The Youngest Indian Scout and Champion / Rifle and Pistol Shot of the World."
ν Wyoming Jack and Nebraska Nell, who, according to a fellow researcher looking for circus history, "do a knife throwing act, trick acrobats and mirror rifle shooting, 16 shots in 4 seconds. They were from Newark, New Jersey, and they were at liberty Feb. 26, 1902."
The researcher says he has "photos of Nell with a lasso and one with two rifles and a double barrel shotgun; in one of her hands she has a small mirror, which I guess they use in the act.
"Photos of Wyoming with a lasso, and then one with two rifles and a double-barrel shotgun and a medal on his chest."
---
I managed to find out a few paragraphs about other shooters, and their short stories are profiled elsewhere in the half-done book.